Are you a business shopping around for a new logo design and wonder how much it will cost? If yes, you are in the right place, as this post will give you detailed information on several aspects of logo designing and how much you can expect to pay for one.
Even if you are a logo designer looking for answers to questions such as 'How much does logo design cost?' or 'How much should I charge for a logo?' Then you will get to know the basic rules on how you can price your logo design services based upon your own skills and availability.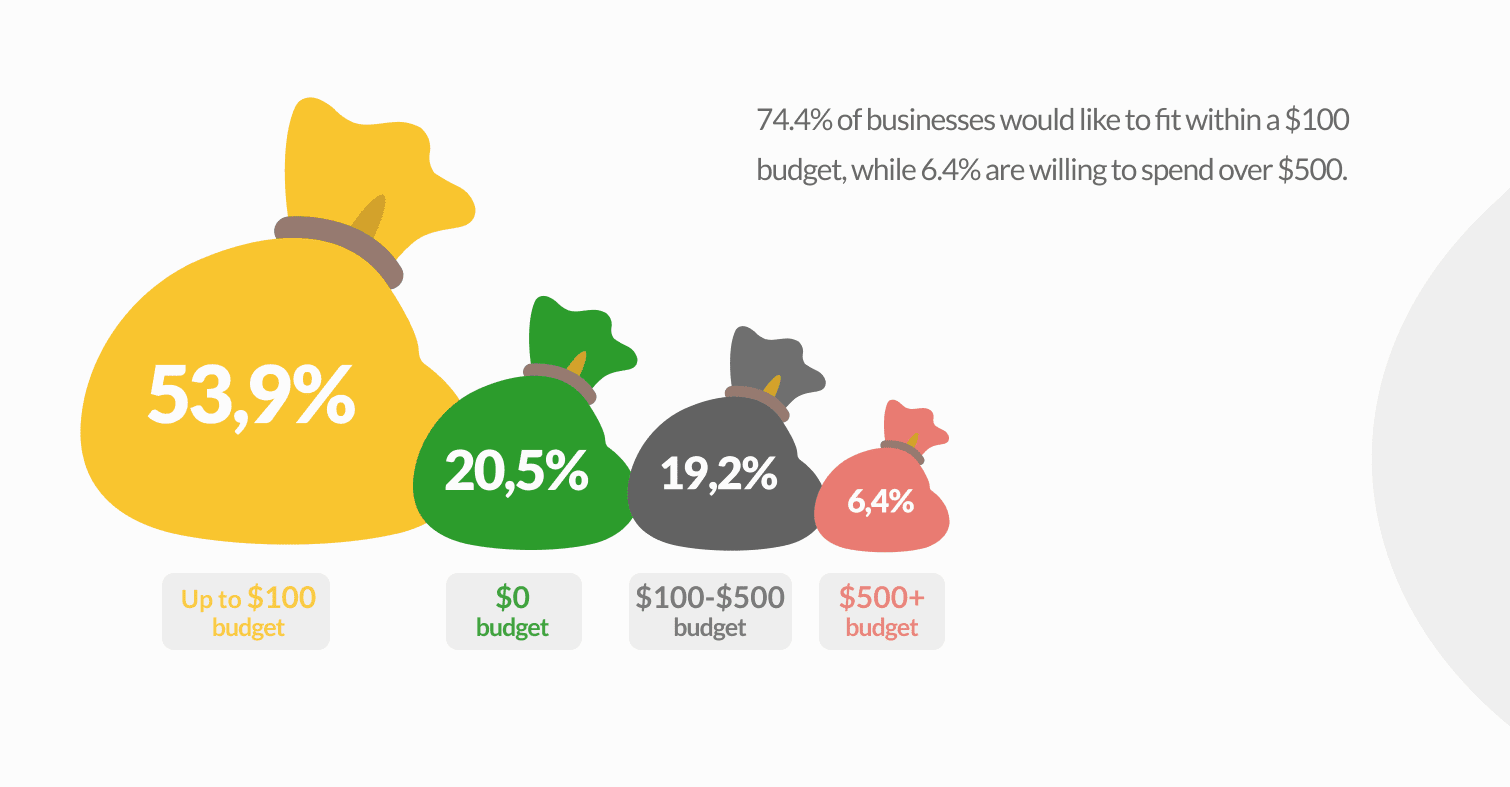 Why is a Logo Essential?
Logos play an important role in your business and major factors resonating with your brand's identity. Your logo helps your customer identify your brand amongst the competitors; therefore, you need a logo design that stands out from the rest. Our what is a logo and why it is important post explores the topic in more detail.
A good logo design not only attracts your customers but also conveys the pride, value, and quality your business represents. A great logo design is simple, clear, unique, and memorable; therefore, it requires some homework when it comes to conceptualizing a logo for your brand. How much to charge for a logo depends on how well it fulfills these essential elements.
Aspects to Consider When Designing a Logo
While you may want to bag a good price logo when shopping for a logo design, you must always consider the following factor and not compromise on them.
• A Logo that Resonates with Who You Are – You must always opt for a logo design that represents the essence of your brand. A logo that is authentic and aligns with your brand philosophy will instill loyalty amongst your target audience. Try to come up with a logo design that can strike an emotional connection with your potential customers.
• Choosing the Aesthetics Carefully – You must do some research and define the right visual aesthetics of your logo design. These include the font's style and size, color, image, etc. Moreover, always stay consistent, as any variation in logos on different platforms can confuse your customers and drive them away. Did you know that the colors of your logo increase your brand recognition amongst the customers by 80 percent?
• Using Your Business Name –If you are a well-known brand, it is always good to use your business name in the logo. This can help your customers identify your brand amongst the crowd. You can even use your business name in taglines.
You must always remember that your logo design will be the face of your brand; therefore, be very careful when deciding each and every aspect of it. A little bit of research and strategic thinking will provide long-term benefits such as brand recognition while enticing new and existing customers.
You can always try a free logo maker online to design one for your brand. Now that you know what aspects to consider let us dive right into logo design prices.
How Much Does a Logo Cost
How much does a logo cost? The logo design price may vary on your business' needs, the complexity of the design, and who is creating it. For a rough estimate, here is a breakdown.
• Making your own logo design can cost you around $100 or less
When creating your own logo, the cost of a logo will be determined by what program you use. Some programs are more pricey with monthly or annual fees. Other ones are free or have a one-time charge to receive the logo file. If you are confident in your graphic design skills and you have plenty of time to create a logo, this could be the way to go.
• A budget logo design may cost you up to $500 or less
Hiring a graphic artist or participating in a logo contest can get you results at this logo pricing. These artists are typically just starting out, are not yet well established, or are still in school. This is a great way to get a semi-professional product on a budget.
• A mid or high-range logo design can cost anything from $1,000 to $100,000
These higher logo design prices would come from agencies that are dedicated to making logos. They are the top-notch professionals in their area with well-known clients and successful history.
All of that said, the cost will be dependent on your requirements area and the agency or professional you wish to hire. There is no average cost or set formula to estimate your logo design cost because logo design pricing varies so much. Every logo designing professional or agency may have its own rates for each aspect of logo design.
Here are three categories to define your costs
• The Basic Logo Design
If you are a business looking for a very basic logo without much concern over the complexity, color schemes, and using unique aesthetics, you can have it done by a freelance logo designer or you can do it yourself with an online logo maker. You can even conduct a prized logo design contest to get a logo at a very economical cost.
• If Quality is Your Priority
If you wish to get a generic logo design, you can use icons, stocks, and fonts with quick results. Moreover, if you wish to get experienced service and advice, you can seek a professional logo design agency or designer's services.
You may pay from a couple of hundred to a few thousand dollars, but you will get a high-quality design with full support from a creative logo designing team.
• For a Top-Notch and Time-Conscious Logo Design Cost
How much do logos cost if they are done by the best professionals in the business? A whole lot. If you are a business that wishes to have a top-notch unique logo design and running a strict time constraint, you may have to pay extra bucks for the quality of the design. If your business has a prior understanding of the logo design process and would not mind spending a decent amount of money, you can contact a well-resourced logo design company to sort it out.
Not only will you get a logo, but you also receive an all-inclusive branding package. The logo design cost for such services may cost from a couple thousand to $100,000.
How Much to Charge for a Logo Design
Are you a novice graphic/logo designer wondering how much to charge for a logo? Again the answer is not a set formula when it comes to how much to design a logo. You must consider several factors to quote a price to a client.
An average logo design cost includes the following elements when considering how much to charge for a logo:
• Your Expertise in Logo Designing
Having a degree or certificates that verify that you know how to properly create a logo will allow you to charge more for your services. If you do not have any of those certifications, you will more than likely have to settle for smaller logo prices. Knowing your stuff really benefits you, especially if you can prove it with a certified piece of paper. The more clients that you have and work with, the more you will know how much to charge for a logo as you get used to your own abilities and your clients' expectations.
• The Quality of Your Work
Just because you have a degree doesn't mean you do good work. How much to charge for logo design depends greatly on the quality of your work. It is important to have a portfolio of your work so that clients can see some of your past pieces. If they find them admirable and of high quality, they are more likely to pay a higher price to work with you. Unfortunately, determining quality is tied to your client's and your own opinion of your work, which can differ greatly. Having people, other than yourself, view your work as high quality will help you gain a better reputation in that way.
• The Quickness of Service You Provide
These days, people want things fast. If you are wondering 'how much should I charge for logo design?' consider how fast you are able to make the design. Clients who need logos in a very short deadline will be likely to pay more in order for that to happen. If it takes you a long time, you won't be able to charge as much, unless the quality of your work is absolutely outstanding and clients don't mind waiting that long. The longer that you design logos, the more likely you will become more efficient and faster at what you do. Understanding your platform and how to use really helps with this. An example is that if you are using a platform for the first time, you won't be very fast because you aren't familiar with it. A large determining factor on how quickly you can provide a service is how comfortable you are with your platform.
• The Complexity of Logo Design the Client is Asking for
Are you still wondering 'how much should I charge for a logo?' Complex logos take more time to create. There is no way around that. The longer you have to spend creating, due to the complexity of the logo, the more you get paid. A simple logo will take a lot less time to create and therefore, will be worth less money. While it is up to you to decide what is simple and what is complex, typically, a logo with a lot more elements or many different colors can be viewed as complex. Simple shapes with very few elements are a lot simpler.
• Your Reputation in the Market
This factor can play a vital role in how much to charge for a logo. The better your feedbacks are, the more you can ask for. If all of your clients always leave five-star reviews, more people will want to use your services, because they know that they will receive a great product. If you are having a harder time with your reputation and you are receiving more negative or unflattering reviews, not as many people will want your work. Because of this, you will have to offer logos at lower prices or else risk not getting any more clients. Just because your reputation might not be good now, doesn't mean that you will always be charging small amounts for logos. Although it may take some time, slowly getting better reviews can help out your reputation over time.
Conclusion
Now you know a little bit more about logo prices and what causes them as well as how much to charge for a logo design. Last but not least, whatever your logo design needs are and the budget you can afford, always follow the below-mentioned checklist.
• Get your logo design in several formats, i.e., printable vector format in high resolution.
Certain formats such as JPG and PNG work better while printed whereas other formats such as SVG and PNG work better on the web. PNGs and what is a transparent logo file is thoroughly covered in this article. You want your logo to be able to be utilized anywhere that you can put it. Having your design in these different formats allows for that.
• Get your Web optimized logo design for placement on your social media, website, etc.
If your file isn't in the right format or size, it can have some problems when placed in certain areas of the web. When a file is too small, it ends up getting stretched which will blur or distort the logo, making it look very unprofessional.
• Obtain all legal copyrights.
Having the legal copyrights means that it is yours. You have full control over it and someone else cannot come and take it from you or use it without your permission. Graphic designers should also give over legal copyrights to you because you are purchasing them.
Knowing how much you can expect to pay or how much you should charge for a logo can be a daunting task. A good alternative is to use GraphicSprings. GraphicSprings' logo maker is one of the most effective and convenient ways to get your brand's desired logo design. So why not try it and get an instant logo for your brand. It is easy-to-use and very affordable. Within three steps, you can have your very own logo. First, enter the name of your company. Next, search through our vast library of logo icons to find the perfect one for you. You can look through our many categories to find one or you can use the search tool. Once you have decided on a logo icon, you can move on to the last step, designing. In the design process, you can edit the shapes, size, colors, orientation, fonts, and much more of your logo icon and logo font. This is your chance to show off your creativity. Take as long as you need to design. As soon as you are done, you are finished designing and now you get to choose your logo package.
Our basic package starts out at $20. Our largest package reaches $200. Depending on your budget and what you are needing determines what package you choose. Out of the four options, you gain more specificity products based on your logo as you increase in packages. Some of the additional perks include social media covers, stationery design, additional file formats, and logo editing. These different packages allow GraphicSprings to be flexible and fit your needs. GraphicSprings also has artists on standby who can help create your logo if you aren't feeling like using the platform to make your own. Overall, our services provide a good middle ground for making your own logo with the help of our platform.
Rashana Ahluwalia is a writer at GraphicSprings, specializing in branding, marketing, and entrepreneurship. With a passion for creative expression, her articles provide valuable insights for businesses striving to stand out.